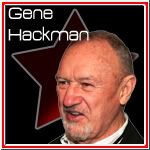 Has anyone else noticed that one of the greatest American actors of the last 40 years has been quietly absent from the Hollywood landscape. According to IMDB.com Gene Hackman hasn't been in a movie since Welcome to Mooseport in 2004. I bet you're surprised, as I was, to find this out.
How can this be, you ask? Trust me I know what you're saying.
It's a tough task to give anyone, search through one day of American Cable TV programming and NOT find at least 1 movie that has Gene Hackman involved in it. I'm not sure that it could even be done. I mean the man has at least 1 movie on TV every single day. Now because of this fact it's easy to see why Eugene Allen Hackman has been gone nearly 4 whole years without anyone noticing. HE'S BEEN HIDING IN PLAIN SIGHT!
You look at the weekend programming on TNT and TBS alone, you're bound to find at least 2 of his movies any weekend of the year. So that leaves me at this… WHERE HAVE YOU GONE GENE HACKMAN?

Gene please shoot me an e-mail, just wanna make sure everything is ok.